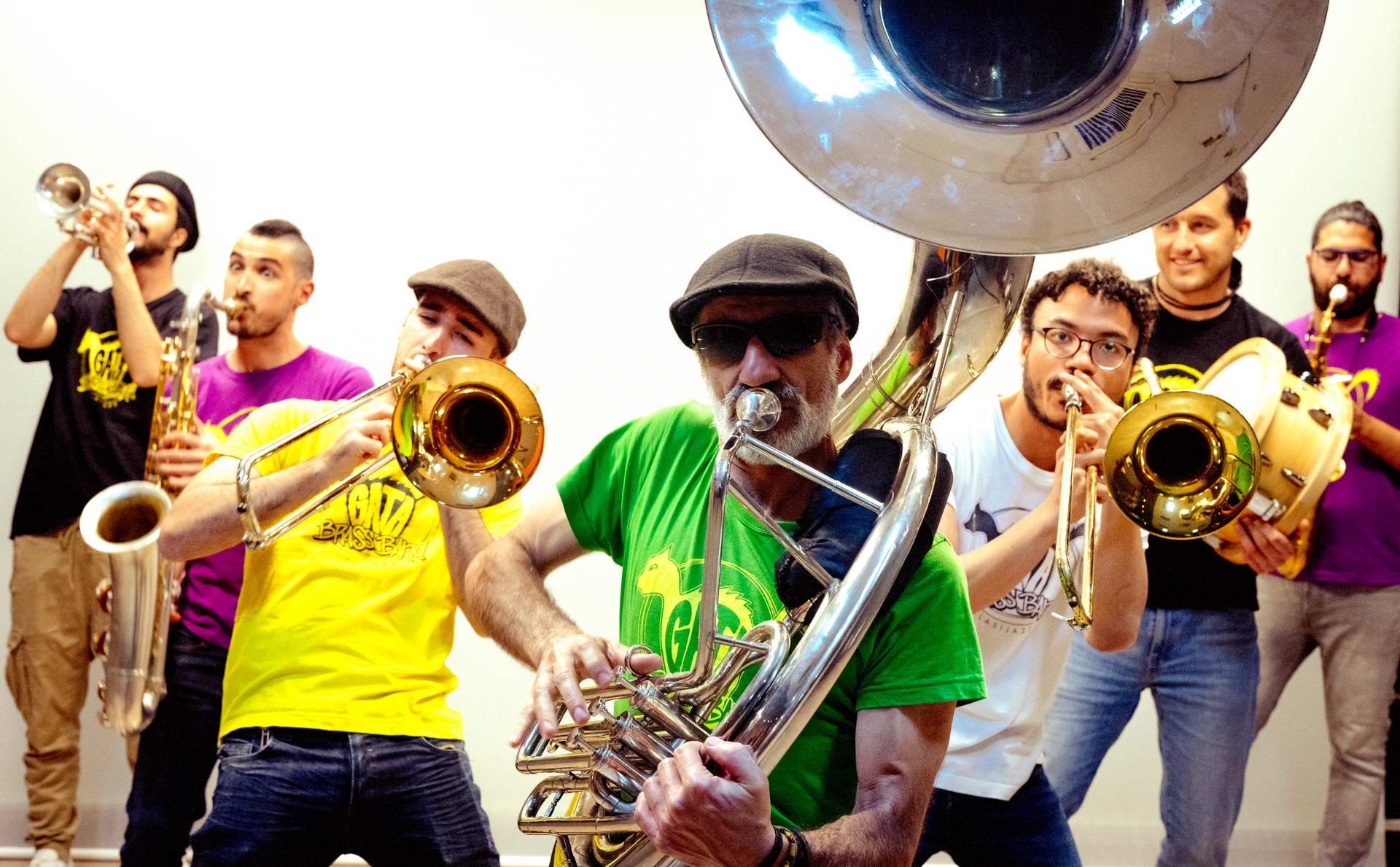 Gata Brass Band was born in Almeria (Spain) in the summer of 2018 on the initiative of Diego M. Pecharromán who brings together several members of the Big Band Clasijazz and other professional musicians from Almeria to create a band inspired by the 'brass band' of New Orleans.
It serves a dual purpose:
1. To highlight and disseminate the rich rhythmic variety of Funk, Jazz and New Orleans music in order to bring greater diversity to the cultural offerings of society.
2. To offer a show that allows the public to escape and enjoy the music completely, being part of it by singing, dancing and interacting.
Since then they have not stopped playing in halls, theaters and squares of Spain and participating in festivals such as the Copenhagen Jazz Festival, Riverboat Jazz Festival in Silkeborg (Denmark), the International Festival of Castellón, the International Jazz Festival of Granada "Jazz on the coast", the International Jazz Festival of Almería "Almerijazz", the "We love jazz" circuit or the "Illusionando con el jazz" program of Almería.
BEATBOX & BRASS
BEATBOX & BRASS is an "explosive energetic cocktail" that immerses you in the rich rhythmic universe of funk through the powerful sonority of wind instruments and the genuine sounds of the "beatbox", all seasoned with rock and electronic influences, and jazz improvisation.
The result is a powerful, energetic and visual show to dance with the audience, making them part of the show.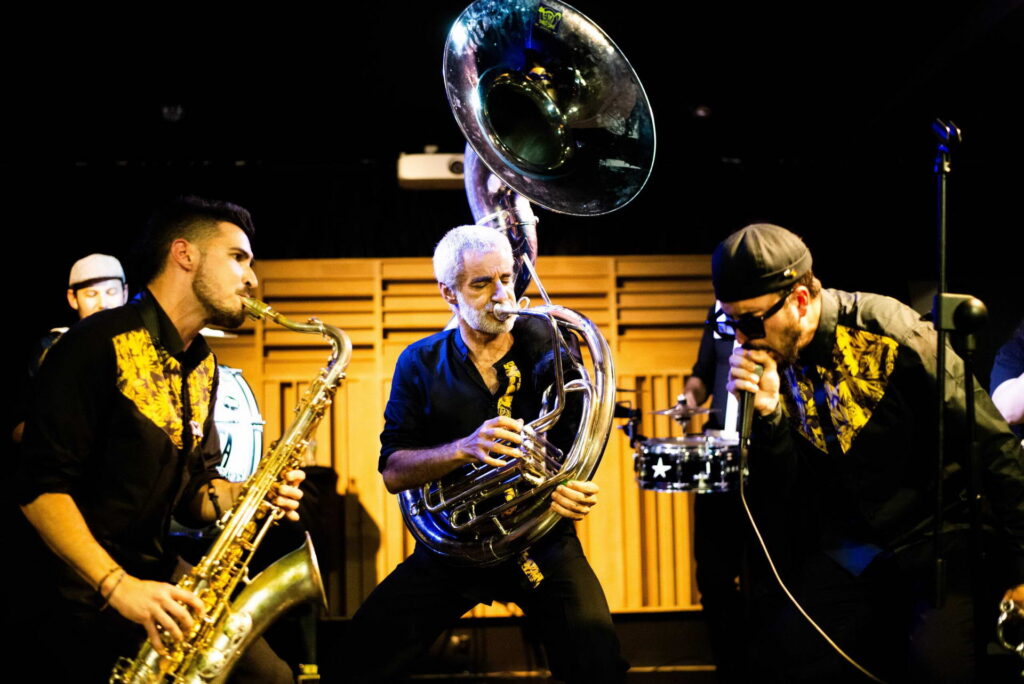 LOOPS & LIGHTS
LOOPS & LIGHTS is an audiovisual show created by GATA BRASS BAND where lights and video art take the lead role to enhance the live music and create a complete visual and auditory experience.
Gata Brass Band incorporated to its usual instrumentation the use of technology through a "loop station" in combination with the voice and beatbox to offer an innovative and very original sound.
New Orleans Parade
"New Orleans Parade" transports you to New Orleans and turns any event into a real party full of energy, rhythm and lively music. Inspired by the parades typical of social events in the city of Louisiana, the Gata Brass Band´s parade is pure energy and fun thanks to the funk riffs, the traditional "second line" rhythm and the catchy grooves that will make the audience dance non-stop, which is the main objective of the band.
It is formed by wind instruments and percussion (bass drum and snare drum) in the style of the New Orleans marching bands.
Didactic «
Sin Funk no hay paraíso

»

Didactic show in which a tour through black music (jazz and funk) is made: from its origins to the most innovative and electronic proposals.

The artists and musicians starring in this show become a peculiar Funk band which will be interviewed in an original music show called : NO FUNK NO PARADISE. The audience, thanks to a surprising performance, is immersed in the recording of a crazy TV show.

A show for children from 3 to…100 years old!
Trumpet and Beatbox: David Galera
Trumpet and Vocals: Dakota
Trombone: Jose Diego Sarabia
Trombone: Sergio Torres
Tenor Sax: Diego M. Pecharromán
Alto Sax: Joaquín Romero
Sousaphone: Jesús Valverde
Drums: Antonio Linares
Bass drum: Ignacio Ferrer